Based on an article that first appeared at
Have you ever encountered a "chatty" kitty? One who meowed at every opportunity (and then some)? Or maybe you've had the experience of a kitty who was mostly quiet, but then something happened and he became extremely "meowy."
Truth is, like people, some cats are simply more vocal than others. They may meow to let you know they're there. They meow because they want something to eat, or they want to say "hello." Whatever the reason, a chatty kitty is nothing to worry about unless it's due to a behavior change.
"Changes in your cat's vocalization patterns can mean medical or health problems, so it's important you know what's normal for your cat and what's out of character. If your cat tends to be an avid conversationalist and suddenly becomes quiet, or if your typically reticent feline suddenly becomes loud and insistent, he may be trying to tell you he's ill, in pain or uncomfortable. Take him to the vet and have him thoroughly checked out." (Source)
5 Reasons Why Your Cat May Suddenly become Hyper Vocal
When cats are healthy, and they've always been vocal, they may be saying "hello" or asking for affection.
According to the ASPCA, "Cats enjoy social contact with people, and some will be quite vocal in their requests for attention. The cat may want to be stroked, played with or simply talked to. Cats who are left alone for long periods of time each day may be more likely to meow for attention."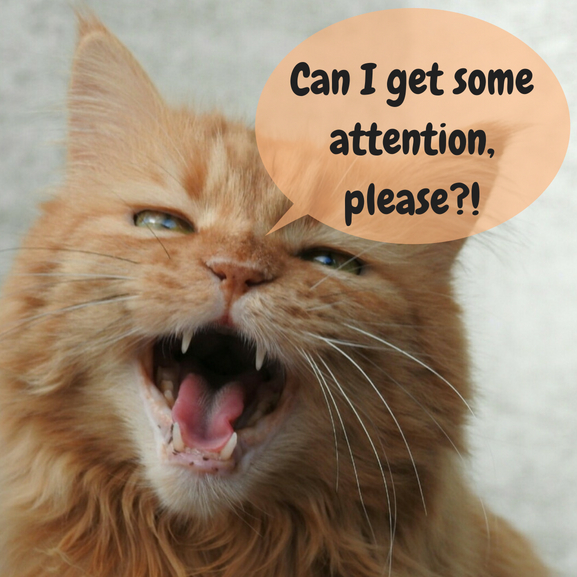 If you have your cat checked out and he seems healthy but still more "meowy" than you would like, you can try these cat training tips from cat behavioral specialist Pam Johnson-Bennett.
"How do you do this? It's actually very simple but it takes patience. Wait out the meowing and don't acknowledge your cat until he stops. When he's quiet, immediately reward him. At first, the time that he's quiet will be very brief but if you only reward him when he isn't meowing, he'll eventually realize that silence offers a better consequence than vocalization. Gradually, you can increase the time you're asking him to be quiet before offering the reward.
I've found the easiest way to do "quiet" training is with a clicker. I click when the cat isn't meowing and immediately offer a reward. Clicker training is a very effective way to let the cat know what you want from him."
Now that you know a few of the common reasons your cat may be meowing so much, ask yourself if this is a recent change. If so, please make an appointment with your veterinarian to rule out any serious health problems.